2009 Gaspe
After learning from the last two Gaspe trips, we decided the next one should be early in the season, if conditions were good, to avoid the traffic and a rough TQ5. We also decided to start from Montmagny instead of RDL...less truck miles, more sled miles. We started from the Florimay, since the other two spots were full on a Saturday with short notice. The Florimay was nice, but didn't have a restaurant or bar, and had a small parking lot. Oiseliere or 232 would be much better. Only John was available for the trip, so we should make good time, 6-days was the plan…the forecast and snow looked good. John rode his rebuilt '07 SDI, and I had my '09 ETEC with ~1200 miles on it.

Day 1: Montmagny to Amqui
Mostly Sunny, windy, -15F. Trails were hard packed.
TQ5, 35, 548, 5, 579, 587. 291 miles. 39.7 mph [avg]. Trail time 7:24.

Most trails were perfect and freshly groomed. Only 587 near Amqui was poor. This was my first time past relais 540, which didn't look too busy early on Sunday morning. ..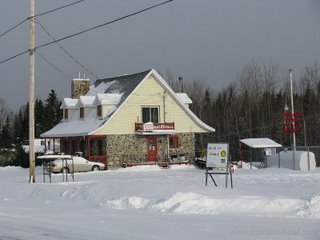 We continued on to Cabano for lunch. Closer to Amqui, we actually had the sled-cops check all our paperwork…that was the only time we saw them the whole trip. That night we stayed at the Ambassador.
Day 2: Amqui to Mont-St-Pierre
Mostly Sunny, -15F. Trails were hard packed.
TQ5 the whole way. 221 miles. 36.6 mph [avg]. Trail time 6:08.

Once again, perfect conditions, and a nice sunrise...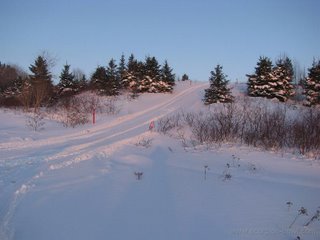 All trails were perfect till Cap-Chat, where we had lunch. The Mont-St-Pierre groomer was broken, so the rest of the ride was rough, but passable. Good thing this was a short day, the weather was nice, and this was a very scenic run...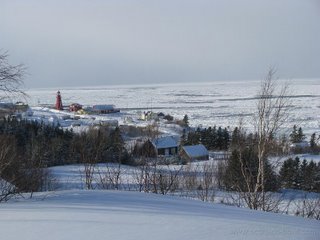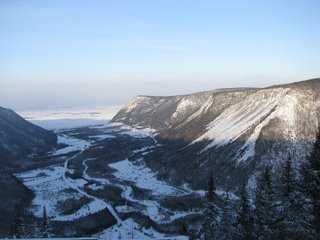 Once the groomer's fixed, he's going to be busy...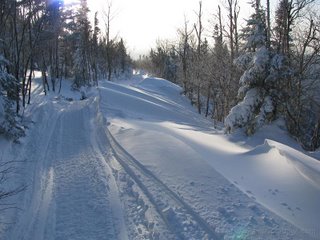 Here's the view from the Mont-St-Pierre lookout, where hang-gliders jump from...
We stayed at the Motel Mont-St-Pierre that night. Surprisingly, we saw a tour group of 14, the only group we saw the whole trip.
Day 3: Mont-St-Pierre to Perce
Cloudy start, then Sunny, -4F. Trails were hard packed.
TQ5, Gaspe-trail, 597, 5. 230 miles. 39 mph [avg]. Trail time 5:59.

We started the day with more steep Mountain trails...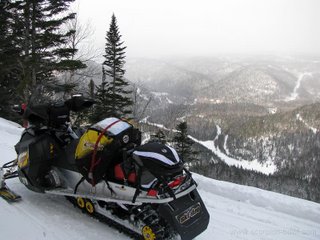 then one of the many nice bridges...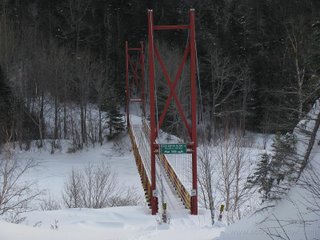 TQ5 was excellent most of the way, except for a stretch near the Vallee's. The little Chic-Choc local trail didn't look open on the way by. There seemed to be a lot more wind mills than I remember...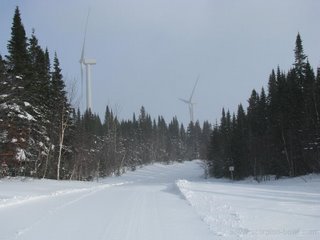 We stopped at Chez-Ron's for lunch [great stop], then took the local Gaspe trail to 597, always a good run. 597 was groomed, but not up to its usual standard. I don't know why they call it piston alley these days, it should be belt alley. I blew my first belt there, with the Etec at 1960 miles. There's probably more rubber along this stretch of trail, than at a Goodyear plant...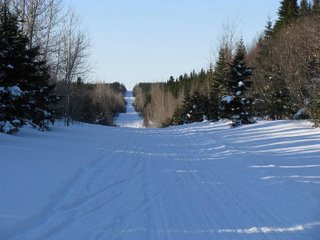 We then continued on to Perce for the night. Since Fleur-de-Lys wasn't open till February 1, we tried Le Cote Surprise, outside of town. In Perce, the trail up to the third lookout wasn't open, but there's still a nice view from the first lookout...
Day 4: Perce to Pointe-a-la-Croix
Sunny, -1F. Trails were hard packed.
TQ5, Gaspe-trail, 597, Chic-Chocs, 595, 5. 319 miles. 40.9 mph [avg]. Trail time 7:54.

Once again, another spectacular sunrise...

The Chic-Chocs is always a nice trail...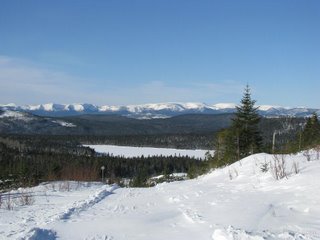 Lot's of Moose on that trail, John has a few pics. We then had lunch at La Cache, spaghetti with moose-meat, makes sense I guess. 595 was smooth and fast. There was a reroute North of New Richmond which went through a region with more deer than I've ever seen. Around every corner, you'd see multiple deer in the trail, for several miles. It's got to be a dangerous stretch, but we made it through with no problems. TQ5 was excellent, till la Croix, most green and orange trails were groomed over the last week and smooth, but well traveled and had small drifting. We stayed at the Selectotel.
Day 5: Pointe-a-la-Croix to Riviere-du-Loup
Snow, +10F. Fresh powder over packed trails.
TQ5 the whole way. 265 miles. 34.4 mph [avg]. Trail time 7:38.
We were greeted with 10" of fluffy powder in the morning...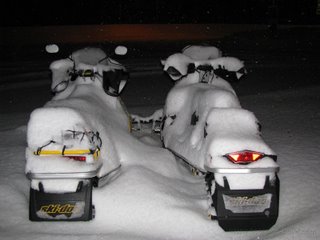 Breaking trail most of the day...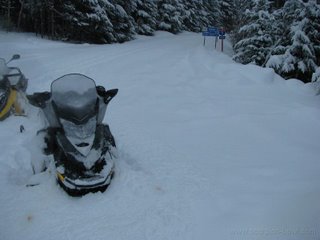 We had lunch at Auberge le Relais [not the one in L'Etape]. A great stop, and would also make a good overnight. After lunch, we found that the North shore got a lot more snow than the South, maybe closer to 18"...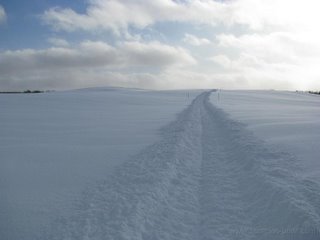 notice the snow-spray, very deep stuff, but perfect for the 1.75" ripsaw. We also dug-out a Canadian couple from 3' of powder after missing a turn. Later, John set the record for distance from a gas station when running out of gas...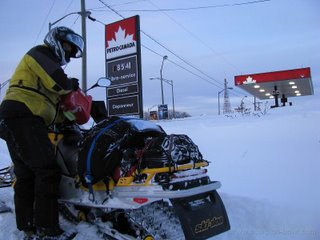 a record I previously held, and at the same gas station. I ran out [for the third time] about 2 miles back. That night we stayed at Hotel Levesque, a great stop, nothing new there, still no truck lock-down. That night, we decided to take the direct route back to the trucks, for a half day ride, so we could get home and deal with the 10" of new snow there.
Day 6: Riviere-du-Loup to Montmagny
Partly cloudy, +15F. Packed powder.
TQ5 the whole way. ~116 miles. 39.7 mph [avg]. Trail time 2:54.
Another perfect day, and the groomers did their work...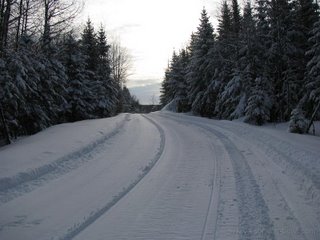 About 15 miles from the trucks, my sled started with an awful smell and shortly made funny noises. Seemed like it was something with the drive-train, the engine was fine. It was a short tow to a road near relais motoneigist. Then I drove John's sled to get my truck. Of course I blew a belt about 0.5 miles from the truck, then it was a quick drive to get the sled and end the journey, back at my dealer in NH...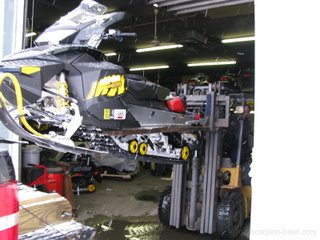 In summary, another great trip, with one problem, that if it's going to happen, couldn't have been at a better time. Trails were mostly perfect, with little traffic. For the 5.5 days of riding, we covered 1443 miles, for the 38 hours we were on the trail. Average speed for the trip was 38 mph, well below the limit of 70 kph [42 mph] posted on many trails, so that was good to know ;). On average, gas was $0.914 [ca] per liter, a mix of super and regular. Each sled used a little over $400 [ca] in gas. The '07 SDI with a 1.5" ripsaw track, got 12.5 mpg on gas, and about 180 miles per quart of oil. The '09 Etec with a 1.75" ripsaw track, got 11.6 mpg on gas, and about 145 miles per quart of oil. However, I still think ski-doo is correct...the Etec gets much better mileage and uses much less oil than the SDI [while at idle]. The '09 XP is by far the best sled I've ridden. The difference from the previous generation is amazing. The combination of Simmons skis and the 1.75" ripsaw track is amazing in all conditions. I installed ice scratchers for added protection on this trip, but at 2700 miles, I'm still on the original set of hyfax. The extra weight of the track is probably similar to a studded factory track, just watch out for ice! The Etec engine is amazing. Throttle response is instant and the power is amazing in all conditions. Clutching is excellent, even with the new track. Gas and oil mileage is nowhere near what skidoo claims, but still adequate, I guess. Hopefully reliability wasn't traded-off for the light weight, but that may be the case, I guess I'll find out...