2009 Mid-Season Ride
This was supposed to be a full week trip. The first 5-days with Marty, the last few with John. We met in Shawinigan on Valentine's day. The rough plan was 100-Lacs, St-Felicien, La Malbaie, Chicoutimi, Shawinigan, then a yet to be determined weekend ride out of Shawinigan. We arrived after the 2-day warm-up and rain. Everything was ice, and trails were near ice. The secure parking only had a few rigs in it, strange for this time of year. After dinner at Pub 57, we ran into Don who just returned from a weeks ride with Tom, and was headed out later Sunday for a 2-week ride with Phil. On this trip, I had my newly repaired '09 with 2700 miles on it, and Marty had is '08 with about 3800 miles.
Day 1: Shawinigan to 100-Lacs
Mostly Sunny, +25F. Trails were near ice.
318, 360, M20, 345, 33, Local trail. 270 miles. 39 mph [avg]. Trail time 6:45
The plan was to ride to Repos, and decide whether to stay at Kanawata or 100 Lacs. Trails were fairly smooth to Repos, but extremely hard, so you felt each bump. Trails were near ice, but had some grip and kept the sleds cool. They were a little slick in the corners [w/o studs] and ate hyfax, especially with my less than ideal setup. Repos was packed, and took an hour for lunch. We decided to head out to 100 Lacs...big mistake. Not far out of Repos came logging, re-routed trails, and poor conditions. The trail to 100 Lacs was also one-way this year, so it was about a 25 miles back-track for the next day. We were the only ones at 100-Lacs. What a great stop, a typical outfitter, with nice food and people.
Day 2: 100-Lacs to Relais 22
Mostly Sunny, +25F. Trails were near ice.
TQ33, 13, 83. 290 miles. 39.6 mph [avg]. Trail time 7:27.
On day 2, the goal was to head to Roberval since there was a doo dealer there...we both needed hyfax with these conditions. To start, we back-tracked to the old TQ33, and had to head to Club Scott at the 33-13 intersection. This trail was fairly decent, but it didn't take long before we saw a moose on the trail. We've seen many moose over the years, and the usual technique of chasing them down for a bit, then stopping so they'll head off the trail has worked fine, but not this time. This moose was big, and since he only had one antler left, he was probably mean. We went off and on for about 5 miles. The moose was getting very tired, struggling up the hills, and tongue hanging out. He wasn't going to stop till he collapsed. Here's a short clip...
At this point, we decided it was time to pass him...he was near death and we were a half hour into this game. For the most part, he was all over the trail, much like Canadians on a 2-up. Marty found a good spot and got a clean pass. That spooked him onto the side of the trail and a stumble, but he kept going. I followed a bit and found a good time to also pass. I'm not sure how many have passed a moose, but it's not recommended. This guy was huge, and easily outweighed the sled and I combined. Once I caught up with Marty, we talked about the passing and soon after, our friend kept coming...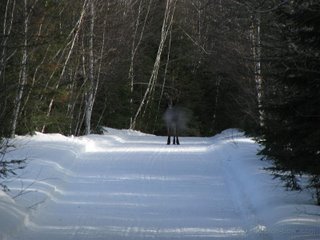 Once we started the sleds, he stopped and turned around...you can tell from his breath, he's clearly tired. We quickly arrived at Club Scott, and continued through many trail changes to Fer-a-Cheval for gas. There we learned a groomer caught fire south of Parent, explaining the poor trails. I guess that wasn't a story...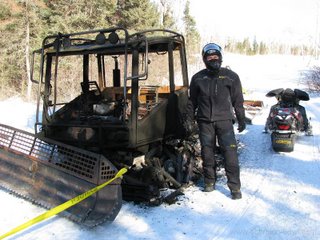 Shortly after that, Marty had a repeat of his electrical problem from last years season ender, but this time it was the other wire, but we were able to patch it this time. Trails from Parent to Wemo were crap as usual. Out of Wemo, luckily the 20 miles of road were well coated, but plowed. This stretch to Relais 22 was the best of the trip. Clearly, once you get North, there was less rain, and trails were as good as they get. After a quick lunch, it was off to Roberval for a quick 80 miles. After 15 miles, Marty's sled which had been problematic all day was much worse. Turns out some tower bolts were gone and the brace cracked, so we headed back to Relais 22 for the night. I've never had a chance to stay at Relais 22. They have a nice bar/restaurant, and the rooms are basic...mattress on plywood and common bathrooms.
Day 3: Relais-22 to Shawinigan
Sunny, -4F to +30F. Trails were near ice.
TQ73, 355, 360, 318. 182 miles. 36.8 mph [avg]. Trail time 4:59.
A surprisingly cold morning. Marty had a truck lined up to take him to the doo dealer in LaTuque ($150 [ca]). Except for the trail changes, the ride to LaTuque was good. You've got to love the local aromas...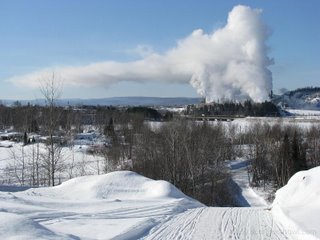 How people can live there is beyond me. The doo dealer did a patch to Marty's sled and we headed back to the trucks. The weather warmed up, logging roads were dirt, and there was some signs of dirt on the trail. Conditions were more like mid-March.
Overall, trail conditions were poor for Quebec and traffic was surprisingly high. Out west was a mistake with all of the logging and trail changes. As proof conditions were poor, gas mileage on the Etec was 15.8 mpg and oil was 185 mpq, compared to 11.6 mpg and 140 mpq on the Gaspe trip. The old belt made it through the trip, and I changed the original hyfax after the trip, at 3478 miles.